How Much Home Can You Really Afford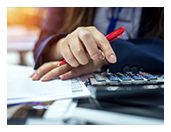 Qualifying for a mortgage loan is an exciting experience that often gets your mind spinning about your future residence. You might dream of owning a condo in a high-rise overlooking the big city or a spacious home for your growing family that has plenty of property. No matter what kind of home you want, it's important to know what you can afford and stick to your budget. Getting in over your head with a mortgage loan can wreak serious havoc on your life, impacting your ability to qualify for additional loans or even enjoy a meal out every now and then.

Outline your income.Start by outlining your income and budgetary constraints. A good rule of thumb is that your mortgage payment should not exceed 35% of your total income. So, if you bring home $5,000 a month, your total housing payment should be $1,750 or less. You may qualify for more than that amount, based on your credit history, but you should stick to this rule to avoid becoming mortgage poor.
Consider all payments.Additionally, the mortgage payment isn't the only cost associated with your housing expense. If you move to a property within an HOA, you'll have to pay monthly or annual dues. Many homebuyers choose to roll their insurance and escrow payments into their mortgage payments so they only have to make one monthly payment. An escrow account holds the money you're setting aside to pay property taxes, which come due every year and are based on the value of the property.
Plan for unexpected expenses.Don't forget to account for any potential home-related costs you may need to pay once you're in your new home. If you're used to renting, the shock of having to replace an HVAC system or fix a plumbing issue could put a serious damper in your financial situation. By choosing a lower-cost home, you'll have more in your monthly budget to cover unexpected expenses and maintain your house.
By planning ahead and understanding how much home you can truly afford, you can avoid the stress that comes with spending too much on this big purchase. You can enjoy your home and the memories you make in it, rather than feeling overwhelmed and stretched too thin.
Avo Derbalian became Owner/Salesperson of a real estate company in early 2016 after being a Realtor® for a year and a half, providing services all over Bergen County and Passaic County. Since then, ....